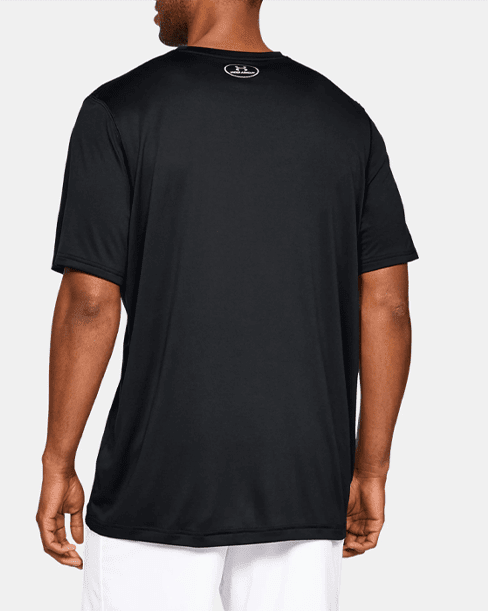 UA Tech™ fabric
Quick-drying
Soft and natural
Anti-odor technology
Prevents growth of odor-causing microbes
Center front logo
Fabric is 4-way stretch for excellent mobility in all directions
Available in a variety of colors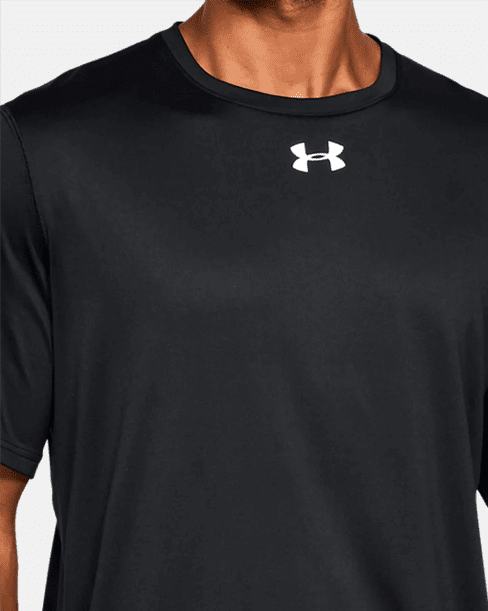 Youth UA1305845; Men's UA1305775; Women's UA1305510 
100% Polyester
Imported
How To Design Your Custom UA Locker 2.0 Teeshirt:
Incorporate your unique design easily with our online Design Studio. Simply follow these four basic steps to order your custom Under Armour team teeshirts.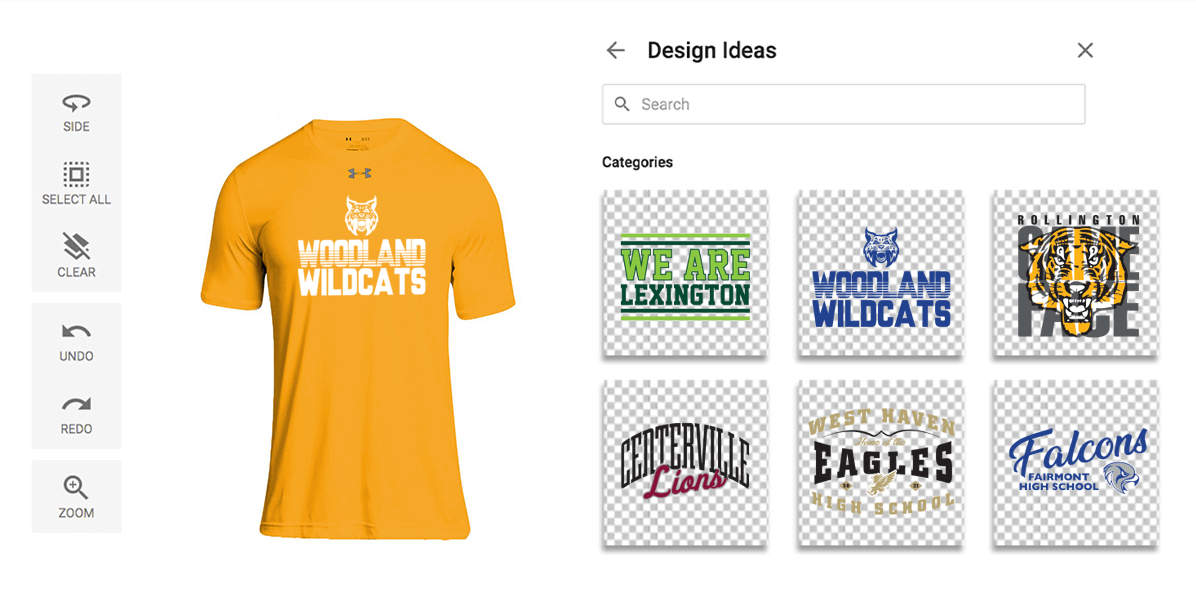 Select your product color and click on "Design Online"
Customize with our online Design Studio:

Choose where you want to customize
Upload any images you want to include
Add text and choose your text font, color, and size
Add art from our design ideas, clip art, or any unique designs you have uploaded

Choose your quantity
Finalize & Checkout!
Make Your Team Ordering Process Simple—Set Up an Online Team Store!
Set up your team store online in minutes. With an online team store, you'll be able to select your products and make your customizations. Share the link with your team members and let Ares take care of the rest.
We'll track and manage your store for you. We collect each individual's payment, so you don't have to bother handling the cash. You can choose to have us ship directly to your team members' homes or we can ship one box directly to you with each order organized and labeled. There's even an option to fundraise through your online store so you can help your community at the same time!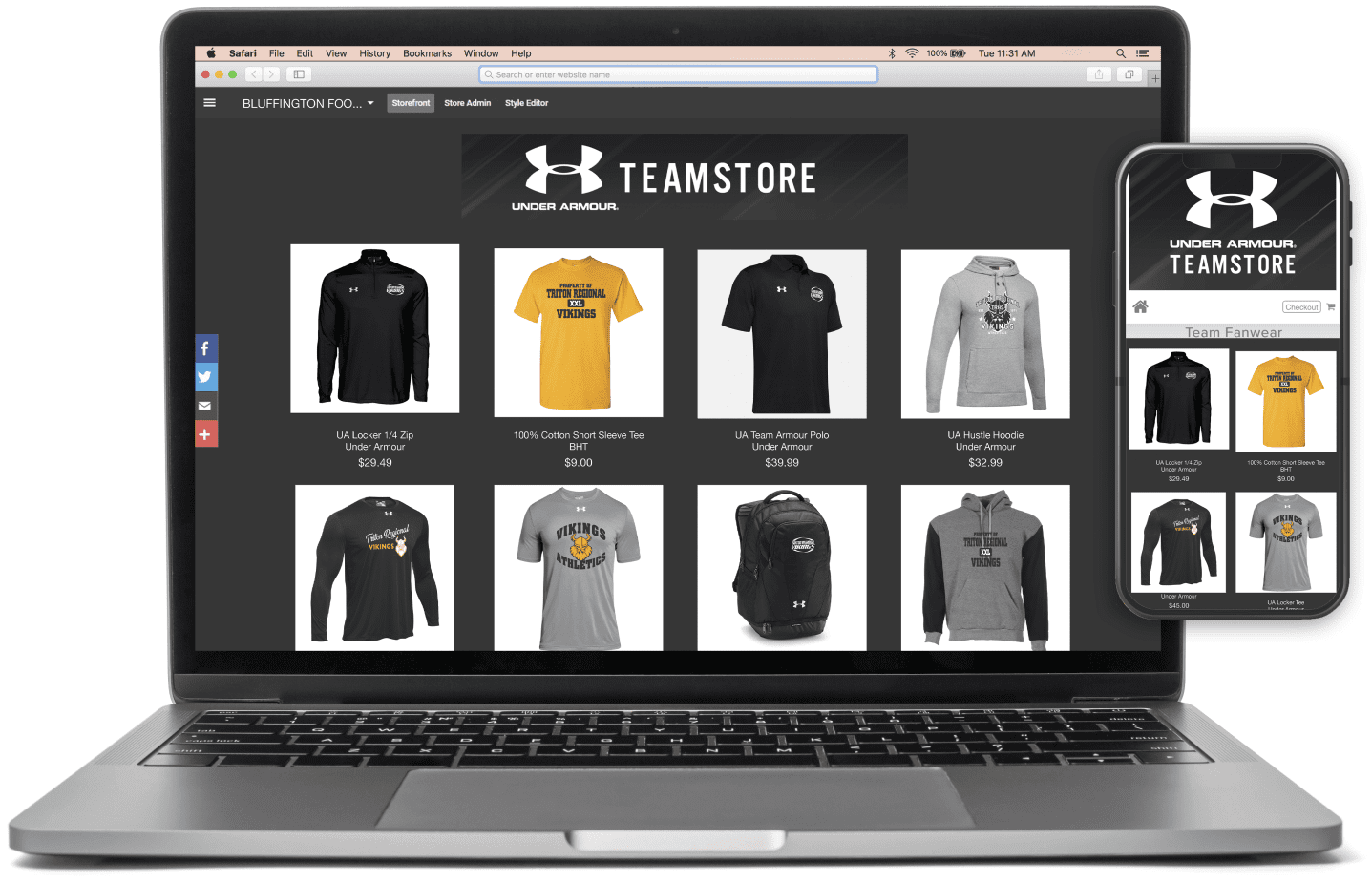 Find More Under Armour Team Sales
Well-known for their high-performance products, you can find plenty of quality sportswear items available for purchase through our site. Search for Under Armour soccer sportswear for the upcoming season. Show your employees your appreciation with Under Armour corporate wear. Check out some of the best-selling items like the Team Under Armour Hustle Backpack and the Hustle Hoodie.
Not sure what to design or how to design it? Contact our team of experts and we can walk you through the process. We're available via live chat or you can fill out this form and we'll reach out to you ASAP.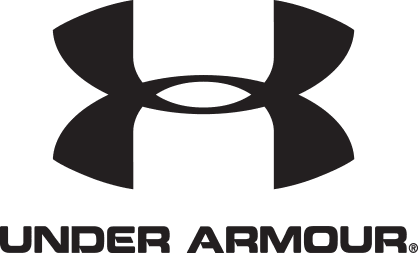 Custom Under Armour Tees:
UA Locker 2.0 Teeshirt
Wear high-performance gear by Under Armour to bring your full potential to the game. The Under Armour Locker tee is a classic workout shirt. The Locker Tee has you covered while you are working hard. Made with high-quality material, it's not your average t-shirt. Its expert design includes UA Tech fabric, specially crafted for an athlete's needs. It is lightweight and comfortable. Maximize your agility with the 4-way stretch fabric. You'll have no problem making that high jump to the basketball net or protecting your team's quarterback while dashing down the football field.
The UA Tech fabric wicks sweat and dries quickly so that you can remain comfortable while pushing it to the limit. The anti-odor technology keeps you smelling fresh no matter how much you've been sweating. You'll be able to leave the locker room without the funky workout smell. The Locker Tee is a classic UA design made for high-performance. 
Ares offers custom Under Armour t-shirts for men, women, and youth. Custom spirit wear is perfect for school sports teams, club teams, and corporate employees. Cultivate teamwork with Under Armour basketball gear and soccer workout wear. Ares supplies a wide variety of sports teams with high-quality custom sportswear. Create your unique design with our easy-to-use Custom Designer. Our team of design experts is always available to support you through any step of the process.1
Custom UA Corporate Apparel
Bring your employees together with matching corporate gear. Customize high-performance apparel for your employees. Ares offers online customization for your unique needs. Personalize your Under Armour tees with your company logo, name, or cool design. Build company spirit and increase employee morale with high-quality apparel.
Most people assume Under Armour was founded in Baltimore. In fact, it was founded in Kevin Plank's grandmother's basement in Washington DC. Kevin Plank was a captain on the Maryland football team who grew tired of nasty, sweaty clothes underneath his football pads. He started designing a t-shirt made from tiny microfibers that wicked away sweat. He asked his college buddies who made it to the NFL to try his new t-shirts ,and they loved them so much they recommended Kevin's shirts to their NFL teammates. Today, Under Armour is a world famous multi-billion dollar brand that signifies quality and consistency to millions of sports teams around the globe.
The Partnership between ARES Sportswear & Under Armour
ARES Sportswear was an early team partner with Under Armour. In the Early 2000s, ARES Owner Mike Campbell, and merchandiser Dan Girard, made a trip to Baltimore, Maryland to work out an arrangement that allowed ARES Sportswear to give sports teams across the country access to Under Armour apparel for the fist time. ARES quickly became the largest team distributor of Under Armour in its home state of Ohio. From 2005 to today, ARES worked to become a dominant and trusted supplier of Custom Under Armour in the USA. To this day, ARES Sportswear works hand in hand with Under Armour leadership to perform research on the best screenprinting and embroidery application on Under Armour fabric, and to choose the most appropriate products to stock and make available for immediate decoration and shipment.
FREQUENTLY ASKED QUESTIONS: