Under ArmourTM in stock for fast printing and fast shipment!
ARES Sportswear has Under Armour in stock so we can customize your order immediately and ship it fast! If you tried the competition and they can't ship it fast enough, give us a call!
Have you considered building an online store as a way to give your team access to customized Under Armour?
Let us ship customized Under Armour apparel directly to your team, parents, and fans via the ARES online teamstore. We will collect payment for you, and we ship the order directly to each athlete's door! This can also be turned into a lucrative fundraiser for your group, team, or club!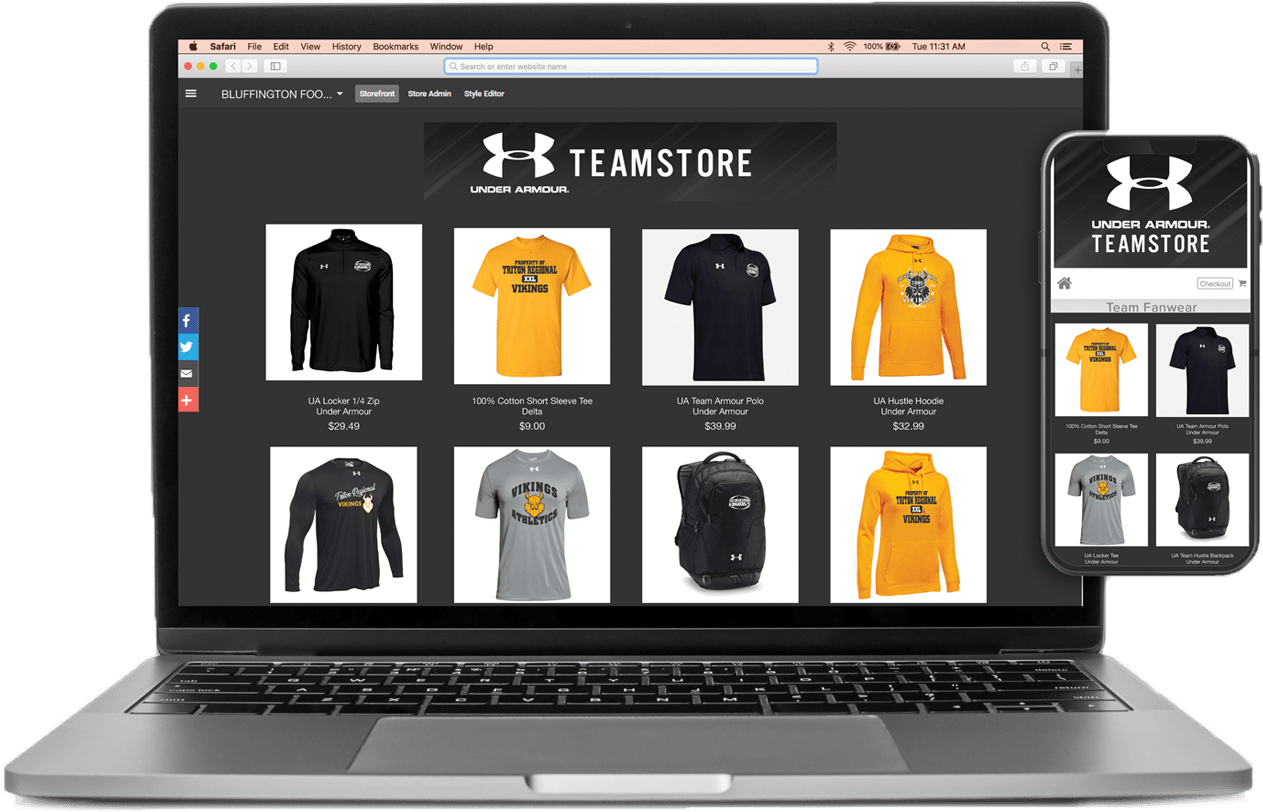 Most people assume Under Armour was founded in Baltimore. In fact, it was founded in Kevin Plank's grandmother's basement in Washington DC. Kevin Plank was a captain on the Maryland football team who grew tired of nasty, sweaty clothes underneath his football pads. He started designing a t-shirt made from tiny microfibers that wicked away sweat. He asked his college buddies who made it to the NFL to try his new t-shirts, and they loved them so much they recommended Kevin's shirts to their NFL teammates. Today, Under Armour is a world famous multi-billion dollar brand that signifies quality and consistency to millions of sports teams around the globe.
Under Armour Performance Apparel keeps you dry while you are playing
Kevin Plank, the founder of Under Armour, was a fullback at The University of Maryland in the 1990s. He grew tired of changing out of sweat soaked t-shirts after practice. At the same time, he noticed that his compression shorts he wore underneath his football pants stayed dry. Like any great entrepreneur, he seized an opportunity and began making t-shirts out of the same material that was used to manufacture compression shorts. Today, Under Armour is the world leader in performance apparel!
The Partnership between ARES Sportswear & Under Armour
ARES Sportswear was an early team partner with Under Armour. In the Early 2000s, ARES Owner Mike Campbell, and merchandiser Dan Girard, made a trip to Baltimore, Maryland to work out an arrangement that allowed ARES Sportswear to give sports teams across the country access to Under Armour apparel for the fist time. ARES quickly became the largest team distributor of Under Armour in its home state of Ohio. From 2005 to today, ARES Sportswear quickly became the largest team distributor of custom printed Under Armour in the State of Ohio. To this day, ARES Sportswear works hand in hand with Under Armour leadership to perform research on the best screenprinting and embroidery application on Under Armour fabric, and to choose the most appropriate products to stock and make available for immediate decoration and shipment.